| calendar | topics | grades | general info for ACG classes |
Sandro Corsi's other classes: | Advanced 3D Computer Graphics | Basic Design |
Welcome!
This is a 3-units class that covers the basics of modeling, texturing, lighting, animating and rendering scenes created with 3D computer graphics programs. While completing hands-on projects, students review the fundamentals of animation and 3D design.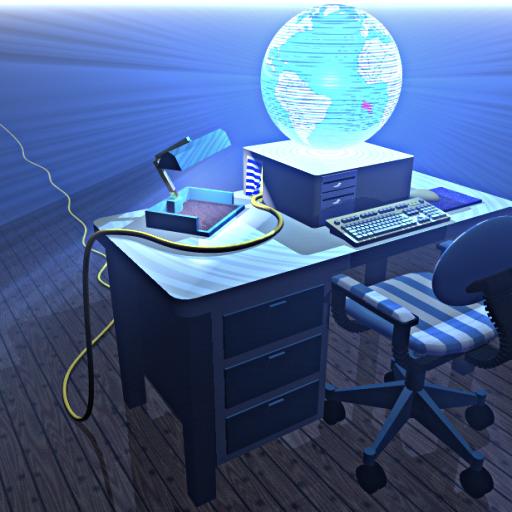 Introduction to 3d graphics

1/22/2010 class

In the lab:

Watch Maya's Basic Skills movies (in Maya's menubar, Help -> Learning Movies).
Work through the Maya Basics tutorial (in Maya's menubar, Help -> Tutorials). Save your files to be graded.

Homework:

Get the textbook.
Read chapter 1 to review this week's lecture.
Read chapter 2 to prepare for the following session.

Introduction to Maya

1/29/2010 class

In the lab:

Work through the solar system tutorial (pp. 39-70) in chapter 2. Save your files to be graded.

Homework:

Read chapter 3 and the first part (pp. 109-136) of chapter 4 to prepare for the following session.

Introduction to polygonal modeling

2/5/2010 class

Test: chapter 1
In the lab:

Locate and familiarize yourself with the features covered in chapter 3.
Work through the hand (p. 122) tutorial in chapter 4. Save your files to be graded.

Homework:

Read the rest of chapter 4 to prepare for the following session.

No class (Presidents' Weekend)

2/12/2010

More on polygonal modeling

2/19/2010 class

Test: chapter 2
In the lab:

Work through the locomotive (p. 137) tutorial in chapter 4. Save your files to be graded.

Homework:

Read the first part (pp. 163-193) of chapter 5 to prepare for the following session.

Introduction to curved surfaces modeling

2/26/2010 class

Test: chapter 3
In the lab:

Make sure you have read through the NURBS-to-polygons conversion tutorial (p. 176) in chapter 5.
Work through the locomotive pump tutorial (p. 180) in chapter 5. Save your files to be graded.

Homework:

Read the rest of chapter 5 to prepare for the following session.

More on curved surfaces modeling

3/5/2010 class

Test: chapter 4
In the lab:

Work through the alien hand (p. 197) and starfish (p. 204) tutorials in chapter 5. Save your files to be graded.
Make sure you have read through the axe (p. 195) and teakettle (p. 209) tutorials in chapter 5. You can do these tutorials for extra credit if you have time.

Homework:

Read chapter 6 to prepare for the following session.

Modeling wrap-up

3/12/2010 class

In the lab:

Work through the red wagon (pp. 220-280) tutorial in chapter 6.
OR
work on modeling a chess set based on one of the designs on the class server.
Save your files to be graded.

Homework:

Read the first part (pp. 281-321) of chapter 7 to prepare for the following session.

Introduction to shading: the look of surface detail

3/19/2010 class

In the lab:

Work through the axe shading (pp. 289-298) tutorial in chapter 7.
Then work through the procedural texturing of the wagon (pp. 308-321) tutorial in chapter 7
OR
add procedural textures (wood, marble) to the chess set you modeled.
Save your files to be graded.

Homework:

Read the rest of chapter 7 to prepare for the following session.

More on shading: the placement of surface detail

3/26/2010 class

Test: chapter 5
In the lab:

Work through the UV layout and image-mapping of the wagon (pp. 321-343) in chapter 7
OR
use UV-mapped images to create a chess board that matches the design of your chess set.
Save your files to be graded.

Homework:

Read chapter 10 to prepare for the following session.

No class (Spring Break)

4/2/2010

Scene lighting

4/9/2010 class

Test: chapter 7
In the lab:

Make sure you have read through the shader glow (p. 464) tutorial in chapter 10. You can do this tutorial for extra credit if you have time.
Work through the physical sun and sky (pp. 457-461) tutorial in chapter 10.
Then work through the three-point-lighting (pp. 466-469) tutorial in chapter 10
OR
set up three-point-lighting for the chess set and chess board.
Save your files to be graded.

Homework:

Read chapter 11 to prepare for the following session.

Rendering

4/16/2010 class

Test: chapter 10
In the lab:

Make sure you have read through the living room (p. 521) tutorial in chapter 11. You can do this tutorial for extra credit if you have time.
Work through the still life (p. 508) and the wagon rendering (p. 529) tutorials in chapter 11. Save your files to be graded.

Homework:

Read chapter 9 to prepare for the following session.

Rigging

4/23/2010 class

Test: chapter 11
In the lab:

Work through the locomotive rigging tutorials, part 1 (p. 377, in chapter 8) and application (p. 427, in chapter 9). Save your files to be graded.

Homework:

Read chapter 8 to prepare for the following session.

Animation

4/30/2010 class

In the lab:

Work through the bouncing ball (p. 346) tutorial in chapter 8.
Make sure you have read through the flying text (p. 372) tutorial in chapter 8. You can do this tutorial for extra credit if you have time.

More on animation

5/7/2010 class

Test: chapter 9
In the lab:

Work through the axe throw (p. 354) tutorial in chapter 8. Save your files to be graded.

Homework:

Read chapter 12 to prepare for the following session.

Dynamics

5/14/2010 class

Test: chapter 8
In the lab:

Make sure you have read through the active and passive rigid bodies (p. 543) tutorial in chapter 12. You can do this tutorial for extra credit if you have time.
Work through the pool table (p. 546) and locomotive steam (p. 562) tutorials in chapter 12. Save your files to be graded.

Finals day

5/21/2010
| return to top | general class info | ACG home |
---